As this is a new website, we're adding friends work that are happy using our products together with a little testimonial from them – you can see first hand the results that they are easily achieving using our products.
If you want to be listed here, please get in touch.
---
Bob Spina
Bob is a Custom Painting legend working with metal flake since its inception. Bob worked with "Big Daddy" Ed Roth in the early days when they developed a box with holes in it, in a shaker style application.
This is what Bob has to say about the Flake o Matic Deluxe with additional accessories Flake Nozzles.
"Man, I've been flaking since 1956 and I've applied flake with everything thats been on the market, I've used the Roth Bazooka, Flake Buster. I've applied it wet, dry you name it, I've tried. But I have to say this Flake O Matic man, it's out there – so simple to use, you use less flake, its dry – so easy to clean up afterwards, you use less catalysed clear. The results speak for themselves.
Just watch the Spade Bros video of Bob applying flake on the roof of the green hornet'…  Click Here
---
Tony "Stig" Pittuck – Stig's Custom Paint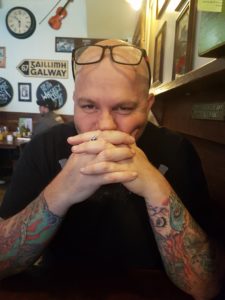 Stig is a prolific UK custom painter and has been metal flaking all his adult life. Stig was one of our early prototype evaluators we asked him to test our gun because of his experience with metal flake and he doesn't take any bullshit (his words not ours). When he first received the gun he was very honest and said he'd give a try but quickly added he'd tried everything and not to get too excited about it. A few days passed and we hadn't heard anything  so we called him and Del was hit with a barrage of swear words, gobsmacked Del said "woah it can't be that bad", to which Stig said…
"no it's fffing amazing it just pisses me off that I haven't been using it for the last 20 odd years. The time that this gun saves me is incredible and flake job on a motorcycle that would normally take me a week I can literally do the flaking in an hour!! plus it's so easy to clean up afterwards as the flakes is dry it just brushes up."
"Every commercial custom painter needs one of these guns – simple as that"
Examples of some of Stigs work…